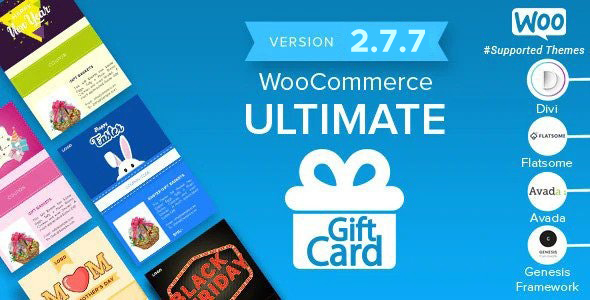 LURE IN MORE CUSTOMERS WITH THE POWER OF SELLING GIFT CARDS PLUGIN AT YOUR ONLINE STORE WITH WOOCOMMERCE ULTIMATE GIFT CARDS
WooCommerce Ultimate Gift Cards plugin is multi-functional and allows you to play with designs, templates, and personalized messages to surprise your customers and their dear ones. This plugin allows merchants to sell WooCommerce gift certificates in their store along with their easy management. As a merchant, you can now design and create beautiful gift cards for special occasions and festivities to attract more customers that too with the flexibility of amounts.
Gift Cards for WooCommerce have always been special to everyone as one tends to give a suitable amount to their dear ones in a presentable form that the recipient could redeem by purchasing products from your store. WooCommerce gift certificates will not only bring happiness to the person whom you are gifting but it will also bring satisfaction to you as well. It brings more customers by offering WooCommerce gift vouchers in your online store.
Gift Cards are the #1 most requested present during the holidays – use them to boost sales volume. Be it a birthday, wedding anniversary, or any other occasion, buying a gift is always a traditional approach regardless of the recipient's wish and likes. People even take an easier approach by giving away cash. However, it lacks emotion.
What You Can Do With WooCommerce Ultimate Gift Cards
Personalize your Gift Cards plugin with beautiful design and custom messages.
20+ pre-defined gift card templates are available for use.
Allows you to sell/redeem/recharge Gift cards in retail stores.
Schedule gift cards for the on-date deliveries.
Select the delivery method that suits your needs best.
Import gift card Coupons for more dedicated/seasonal gift cards.
Benefits Of The WooCommerce Ultimate Gift Cards
Attract and engage new customers to your WooCommerce store.
Selling gift cards in your WooCommerce store will increase your brand value as it is easy for your customers to purchase gift cards for any occasion rather than choosing between the products.
Enhances brand loyalty, brand visibility, and exposure.
Improves your ROI by selling and redeeming WooCommerce gift cards.
WooCommerce gift certificates/vouchers help to reduce fraud when customers try to make an expired return of cash.
It is an easy way to expand your business globally through the word of mouth strategy.
Key Features of WooCommerce Ultimate Gift Card
WooCommerce Gift Card Product

A separate WooCommerce gift card type product is created in WooCommerce and merchants can create as many products as they want.

Price Type Variation

WooCommerce Ultimate Gift Cards offers 5 pricing variants for its customers willing to purchase gift cards. They are –

Fixed Price
Selected Price
Range Price
User Price
Variation Price

Gift Cards Email Settings and Email Templates

Admin has the access to recipients email address editing
Resend gift card email option is available to resend the failed email to the user
Admin can resend the unused Gift Card Coupons to the recipients by adding more amount to the coupon from the order detail section
Merchant can set the Gift card message length from setting. The default length of the Gift card message is 300. Along with this, we have provided the customers to check the current count of the message characters.
The merchant/admin can send the email with a gift card as a PDF attachment. The PDF size variations are available as A3 and A4.
Admin can enable the BCC feature for gift card mails. BCC (Blind Carbon Copy) In this setting buyers will also get a copy of the recipient's Gift Card mail.
In Coupon Mail Setting, users will get notified after each use of the coupon and now the user can also check their coupon amount.
20+ default Email Templates
Create and add more Email templates
Assign templates to Gift Card Products individually and that will be sent to the Recipient's Email Address.

Gift Card Coupon Codes Generation & Other Settings

Import gift coupons in bulk to be assigned to each gift card on purchase
Import Gift Card product along with custom codes using .CSV format
Gift card coupon filter helps you in filtering the online/offline/imported gift cards
The number of Gift Cards depends upon the number of quantities added.
Export the WooCommerce gift cards coupon code details like sender/receiver email id, gift card number and message, coupon usage count, and balance amount in the .csv format
Merchants can set the dynamic coupon length for the WooCommerce gift card coupon codes. The default length of the gift card coupon is 5.
Admin can disable Coupon fields from the cart page if only Gift Card Products in the cart "Disable Coupon for Gift Card Products" feature.

Gift Card Usability

The merchant can restrict the number of users using the same gift card with the Individual use feature.
Multiple usability features allow the customer to use the gift card amount in multiple transactions than in a single transaction.

Gift Card Notifications

Merchants can set the Expiry Date for each gift card purchased to restrict the usability of the gift card after a certain duration of purchase.
Email notifications for the gift cards sent via email.
Customers can Schedule Gift Cards to be sent to recipients' by selecting the date and other details while making the order.

Gift Card Security

Add QRCode/BARCode to your Gift Cards to ensure the security of your gift card.

Note: The ECC level is used for dirt, damage, or fuzziness of the barcode. Valid values are "L" (low ECC), "M", "Q", "H" (highest ECC). A high ECC level adds more redundancy at the cost of using more space.

Gift Card Discount

Merchants can allow/disallow sales items from applying gift card discount amounts.
Merchants can set minimum and maximum cart total amounts for applying the gift card discount.
Admin can also enable "per-product wise" discount settings

Order Management

When a gift card product is purchased separately then after successful payment order becomes completed and a Gift card email is sent to the receiver. If a gift card product is purchased with another product then when an order goes to processing Gift card email is sent to the receiver.

Offline WooCommerce Ultimate Gift Cards

Merchant can create a gift card from the dashboard for a user request and send that gift card to the receiver on behalf of the sender
Merchants can redeem/recharge gift card vouchers offline on their retail stores
Merchants can also insert the manual coupon codes on the purchase of offline gift cards

Gift Card Delivery & Shipping

In this setting, not only Admin but also Buyer can choose the delivery options by which they can send the WooCommerce Gift card Products to their loved ones.

Downloadable Feature

We have added a new downloadable feature for WooCommerce Gift Card. The buyer can also download the gift card and either share it with the receiver or keep it with himself.

Shipping On Gift Card

When any user wants to ship his/her card to their loved ones only that will be the case for applying the shipping charges too, otherwise in other delivery methods "No Shipping" fee will be added to the Gift Card Product. A gift card Coupon is now applied to the cart total amount.

Email for Ship Your Card Delivery method

From now on email id can be changeable by Merchant easily, Whatever Email id has been filled in the given textbox, the Mail will get sent on that Id.

Shipping Class Feature

In this feature, you can add a shipping class and apply it to gift card products.

Additional Features

WooCommerce Ultimate Gift Card plugin supports the "Compatible with WooCommerce Price Based on Country" feature.

Note: This feature helps the store owner to equalize the WooCommerce gift cards with the store's default currency via a new feature of custom currency. On the other end, this comes with a WooCommerce currency switcher that assists customers who have bought a gift card in their currency and will get converted into your base currency according to your business.

For rewarding the customers, the "Special coupon" option is available for shop managers to provide additional discounts.
Customer can also set their gift card image using the "Browse Image" feature
Admin can assign more than one category to the Gift card product with the "Disable Category" feature
With "Preview Button Setting", the admin can disable the Preview Button at the front-end
Using "Send Today Button Setting", the admin can disable the Send Today Button at the front-end.
Merchants can enable/disable tax for WooCommerce Gift Cards with the "Tax Handling" feature. By default, no tax is applied to gift card products.
Merchants can set the date format they want to display in the frontend through the "Front End Date Formatting" feature.
Note: The expiry date in the WooCommerce Gift Card Template will be in this date format if this setting is enabled from the backend.
Let your customers give surprises to dear ones by our brand new Addon Woocommerce Customizable Gift Card Addon
OFFLINE GIFT CARD FEATURE:
IMPORT GIFT CARD FEATURE:
ADDITIONAL FEATURES OF WOOCOMMERCE GIFT CARD PLUGIN:
WPML/Translation
The system is fully compatible with WPML Plugin and we also come with multiple languages supported .po and .mo files.
Available Shortcode
Merchant can list gift card product anywhere on his side using the shortcode:
echo do_shortcode("
");
echo do_shortcode("
");
Live Demo
Visit a demo to experience the powerful features of Plugin and explore.
Frontend demo of Ultimate Gift Cards: Click here

Backend demo of Ultimate Gift Cards: Click here
What do Our Clients Say About Us?
Frequently Asked Questions
Q. How to set up this Gift card plugin?
A. Please reach the WooCommerce menu -> Gift Card Manager Settings. Please check the Checkbox, to activate the plugin and add the new Gift Card Product is Enable or not.
Q. How to add Gift Card Product?
A. Add a new WooCommerce Product, change the product type to the Gift Card Product, enter the default price, and select the pricing type. After entering the price of the selected pricing type you may need to Publish the product. That's it your WooCommerce Gift Card Product is ready.
Q. Where do I change the Gift Card Subject of the recipient?
A. Please go to the Gift Card Manager Setting page and select the Email Template Tab Section. At the bottom, you can see the mail setting toggle bar. There you may change the Gift Card Subject to the recipient.
Q. From where I can modify the email template?
A. We have provided a custom post type Gift Cards under the dashboard where we have provided 16 custom templates. You can use them or even add your template.
Q. Is Shipping Charges applicable to Gift Cards?
A. If any Gift card Product is purchased through a Shipping method (one of the Delivery Methods) only then the shipping charges would be applied. Only the admin will receive the gift card mail so that he can ship it to the customer.
This plugin is not subjected to GDPR compliance as it does not store any sensitive data of a user. It only holds information related to software that is run by WordPress & WooCommerce of the holder.
Thank you for your interest in WooCommerce Ultimate Gift Card, Makewebbetter.
Changelog

Changelog 

04.02.2021- version 2.7.7

New: Compatible with WooCommerce 5.0 and WordPress 5.6

New: Revert coupon amount if an order gets failed or canceled

New: Fixed minor issues

09.09.2020- version 2.7.6

New : Fixed minor issues

21.08.2020- ver 2.7.5

New : Compatible with WooCommerce 4.4 and WordPress 5.5

04.04.2020- ver 2.7.4

New : Compatible with WooCommerce 4.0 and WordPress 5.4

01.02.2020- ver 2.7.3

New : Compatible with WooCommerce 3.9.0

16-12-2019 Version 2.7.2

Fix: Redeem Gift Coupon on https://gifting.makewebbetter.com

11-10-2019 Version 2.7.1

New: Variable Price Type
New: Inventory Management
Fix: Resend mail issue

12-07-2019 version: 2.7.0

New - Compatible with Price Based on Country for WooCommerce
New - Redeem/Recharge Gift Cards on your Retail Store

01-05-2019 version: 2.6.0

New: Added settings to disable gift product quantity.
New: Include product and categories for a particular gift card product
New: Added setting for "TO Name" field to make it require.
New : Compatible with woocommerce 3.6.x
Tweak: Remove Buyer notification for Downloadable And Shipping.
Tweak: Hide Meta fields from Thankyou order page and Email

01-03-2019 version: 2.5.2

New: Include Products / Categories
Fix: Gift Card Balance checker when Admin changed the recipient email address in their respective Order
Fix: WPML compatibility

02-01-2019 Version: 2.5.1 

Tweak: Changes on Addon Tab setting
Tweak: Gift Card Cron

11-12-2018 Version: 2.5.0

New: Released our new Addon [Woocommerce Customizable Addon]
New: Added [FROMEMAIL] shortcode.
New: Download PDF on ThankYou and Order detail page.
Tweak: Buyer Email/Recipient (Email/Name) on Balance Checker.

17-10-2018 Version: 2.4.10

Fix: Remove Wp notice for licensing
Fix: Export All Online Coupons

Version 2.4.9

Fix: Licensing with www
Fix. Barcode/QR code Image issue
Fix. Remaining Balance according to the Tax setting
Fix: Date Internationalization
New: Balance Checker in Gift Card
New: New Date Format added 

02-07-2018 -ver 2.4.8

  - Fix: PRODUCTNAME shortcode issue
  - Fix: JS loading issue
  - Fix: Auto Dashboard Changelog Issue 

25-05-2018 -ver 2.4.7 

  - New: GDPR Compliance
  - New: Order_ID for Email Templates
  - Fix: Licensing Notice

08-05-2018 -ver 2.4.6

    -Fix: IFrame in Safari browser
    -Fix: Issue fetching Product ID when it has been deleted
    -New: Email Template for Mothers Day
    -New: Ajax nonce support

28-03-2018 -ver 2.4.5

    Tweak: In Licensing Panel

27-03-2018 -ver 2.4.4

    -New: Compatibility with Woocommerce Ultimate Points and Rewards 1.3.5
    -New: Dashboard Auto-updation
    -New: Add Licensing Panel
    -New: one action hook provide before the "From" field
    -Fix: WoodMart Theme Notices
    -Fix: Send Mail Forcefully issue

27-02-2018 -ver 2.4.3

   - New: Gift Card Coupon Filter.
   - New: Add an alternative Email field for "Ship Your Card" Delivery Method.
   - New: Number of e-gift cards on the basis of the number of quantity has been added.
   - New: Added new email template.
   - New: WPML compatible.
   - New: Added some new language file for Spain, France, Germany, Netherland.
   - Fix: Exclude Product Section in Woo version 2.6.14.

25-01-2018 -ver 2.4.2
  -Fix: PDF issue

05-01-2018 -ver 2.4.1 

   -Fix: ASCII charaters issue in [SITENAME] shortcode.

29.12.2017 - ver 2.4.0
   - New : Admin can edit the Recipient's Email Id.
   - New : Added a new horizontal PDF.
   - New : [TO] shortcode is also available for Sender's Notification.
   - Tweak : Changes in the way of pdf generation.
   - Tweak : Changes in Exclude Product Section.

06.12.2017 - ver 2.3.2
   - New : Added New Christmas Email Template.

29.11.2017 - ver 2.3.1
   - Fix : minor fixes.

23.11.2017 - ver 2.3.0
   - New : Import Coupons.
   - New : Import Giftcard Products.
   - New : Import Offline Giftcard Coupons.
   - New : Manual Custom code added in Offline Giftcards.
   - New : Show/hide thumbnail image option in Single product page.
   - New : Show/hide Giftcard Notice.
   - New : Show/hide "Apply Coupon" field on Checkout Page if only Giftcards are there.
   - New : Show/hide delivery method's text boxes on click event.
   - Tweak : Changes in the way of displaying the Select Price.
   - Fix : Manual Increment usage for Woo version 2.6.14.
   - Fix : Designing issues for some themes at single page.

29.10.2017 - ver 2.2.4
   - New : Compatible with woocommerce 3.2.x
   - New : Added Tax setting for each Gift Product 

14.10.2017 - ver 2.2.3
   - New : Diwali Template
   - New : Manual Increment Usage of Gift Coupons

05.10.2017 - ver 2.2.2
   - Fix : Mail issue in Woo version 2.1.4
   - Fix : Price Type change event

05.09.2017 - ver 2.2.1
   - New : A3/A4 size for PDF
   - Fix : Meta Keys Translation issue
   - Fix : Rounding Off for Order Total issue
   - Fix : Percent Coupon for Shipping and Taxes issue

26.08.2017 - ver 2.2.0
   - New : Customer can choose template.
   - New : Validations are optional at single product page.
   - New : "To Name" field for "Mail to recipient" option.
   - New : Thank You Gift Coupon Order Feature.
   - Fix : QRCode/BARCode image issue.
   - Fix : QRCode class exist issue.

10.08.2017 - ver 2.1.4

   - Fix : Flatsome theme add to cart button issue
   - Fix : Displaying Price with Tax in cart page

05.08.2017 - ver 2.1.3

   - Fix : Admin Backend URL issue
   - Fix : Import Template Button Issue

04.08.2017 - ver 2.1.2

   - New : New Template added for Raksha Bandhan.

26.07.2017 - ver 2.1.1

   - New : Enable Shipping Tab at Product Edit Page.
   - Fix : Remove cod when cart have different products.
   - Fix : Ajax add to cart validation.

07.07.2017 - ver 2.1.0

   - New : Discount Feature.
   - New : PDF Feature for customer.
   - New : Exclude Product Feature.

16.06.2017 - ver 2.0.0

   - New : Now Buyer can also choose the Delivery Method for delivering the GifCard.
   - New : Comes with 4 new templates (Anniversary, Birthday, Eid, New Year).
   - New : Add Bcc option for Buyer also.
   - New : Add disable settings for SEND TODAY button at front end.
   - New : Add disable settings for Coupon fields at Cart page, when there is only gift card products are there.
   - New : Add disable settings for Preview button at front end.
   - Fix : Cart price issue.

29.05.2017 - ver 1.2.1

   - New: Now User will get notify by each usage of coupon amount
   - New: Now Admin can assign more than one category to the Giftcard product.
   - New: Round off the coupon amount to 2 decimal places
   - Fix: Mini cart subtotal issue

25.05.2017 - ver 1.2.0

   - New: QRCode/BARCode feature
   - New: Shipping feature
   - Fix: Mini cart price issue fixed

22.05.2017 - ver 1.1.7

   - New: Browse image feature

10.05.2017 - ver 1.1.6

   - New: Downloadable feature
   - New: Add name field

05.05.2017 - ver 1.1.5

   - New: Made Compatible with new QR code addon
   - Fix: Uploading image issue
   - Fix: WooCommerce latest version compatibility issues
   - Fix: Mail functionality compatibility issue

19.04.2017 - ver 1.1.4

   - Fix: Coupon issue in old woocommerce versions  

13.04.2017 - ver 1.1.3

   - New:  Introducing 9 new templates
   - New:  Added dd/mm/yyyy date format for templates
   - Fix:  Latest woocommerce compatibilities issues
   - Fix:  Scheduling not working in latest version
   - Fix:  Resend mail not working in latest version

07.04.2017 - ver 1.1.2

   - New:  Compatible with the New Version Of WooCommerce (Version 3.0.0)
   - Fix:  Cash on Delivery and Payment By Cheque Option removed on purchase of gift card.
   - Fix:  Default Price is Selected by default in Price Range, Selected Price And Users Price.

09.03.2017 - ver 1.1.1
   - Fixed: Fixed generating of coupon twice issue.

21.02.2017 - ver 1.1.0
   - New: Automatic send gift card on certain date.
   - New: Customer can send the scheduled gift card on the current day.
   - New: Resend gift card by adding more amount to the coupon.
   - New: Offline Gift Card Scheduling
   - New: Import Offline Gift Card Details to the Offline Gift Card Table.
   - New: Setting for Date formatting on gift cards.
   - New: Giftcard Message Length setting on backend, customer can view the message count.
   - New: Admin can add buyer email address in the Gift Card Subject
   - Fix: Coupon code- number of x on front end.
   - Fix: Expiry date on front end template will now be accurate.
   - Fix: Message overflow issue, made responsive now.

06.02.2017 - ver 1.0.6
   - Fixed   : Fixed Responsiveness issue of Valentine's Day Special Templates.

04.02.2017 - ver 1.0.5
   - New     : Added two new Valentine's Day Special Gift Card Templates
   - New     : Featured Image and Custom CSS metabox for each template
   - New     : Added Preview button for each template
   - Fixed   : Email Validation of To and From Fields
   - Fixed   : Fixed Gift Card product fields not dispalying on single page

27.01.2017 - ver 1.0.4
   - New     : Export Coupon Details from orders
   - New     : Export Coupon Details from offline gift card
   - Fixed   : Tax applicable on product will now also be removed from Coupon Amount
   - Fixed   : Removed Gift Card product selection when Gift Card is diabled
   - Fixed   : Fixed notices and warnings

17.01.2017 - ver 1.0.3
   - New     : Dynamic Gift card Coupon Length 
   - New     : Compatible with ajax add to cart on product page
   - Fixed   : Gift card popup issue with slashes message
   - Fixed   : Solve issue with Product Tabs
   - Fixed   : Update only gift card coupon

10.01.2017 - ver 1.0.2
   - New     : Offline Gift card 
   - New     : Inventory Management on Gift card
   - Fixed   : Solve issue with Category product
   - Fixed   : Solve conflict with Variation Product

21.12.2016 - ver 1.0.1

   - New     : Order Management
   - New     : Disable Shipping fee for gift card product
   - New     : Create a setting for resize the logo size
   - New     : Create a setting for add custom css for gift card email template
   - New     : Create a setting for enable/disable tax
   - Fixed   : Issue with email popup
   - Fixed   : Issue with message with slashes

14.12.2016 - ver 1.0.0
   - Initial Release

Source