Easily provide professional support to your customers from your own WooCommerce store!
WooCommerce Help Desk System fully integrates with your WooCommerce store, guiding your customers through support steps and makes customer support easy for you and the customer. It seamlessly integrates with your theme, your store visuals, it is compatible with any theme and its also responsive! You can create different support departments and allocate them to support different products or orders. You can assign staff to different departments with varying permissions. Many more features to list: All in all, this is a full fledged professional support system that is very easy to use.
Its professional features include:
Full integration with WooCommerce
Product/Order selection & info
Guides customers through support
Unlimited Users
Unlimited Agents
Unlimited Tickets
Unlimited Departments
Multi Language
Easy Language translation from WP admin
English language included
Front End Tickets
Front End Interface for Users
Front End Interface for Support Admins and Agents
Easy to Use
Private Tickets
Email Notifications
Ticket and Reply Attachments
Support Admins, Support Agents with separate permissions
Easy ticket management
Responsive
Extensible
Compatible with all Themes and Plugins
Adapts to visuals of any Theme
Hooks and Filters
Built to scale with large stores
In the Live Demo, try changing the theme from Theme Switcher widget on the right column to see how CodeBard Help Desk adapts to different themes!
Use Language admin to easily translate your help desk into your store language or change existing language's translation. New language packs will be upcoming!
Screenshots from a few functions: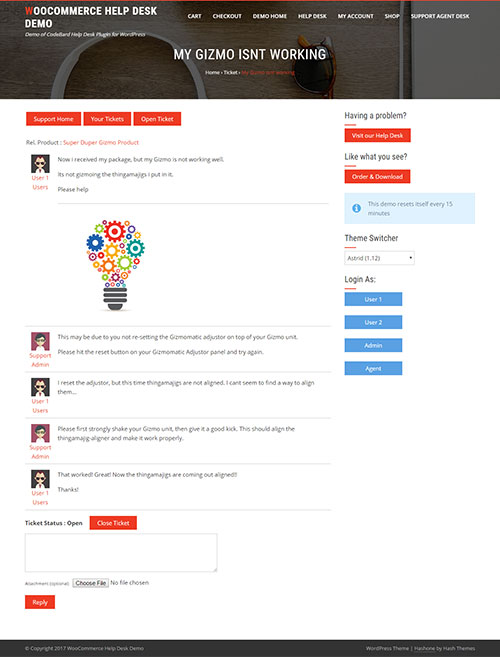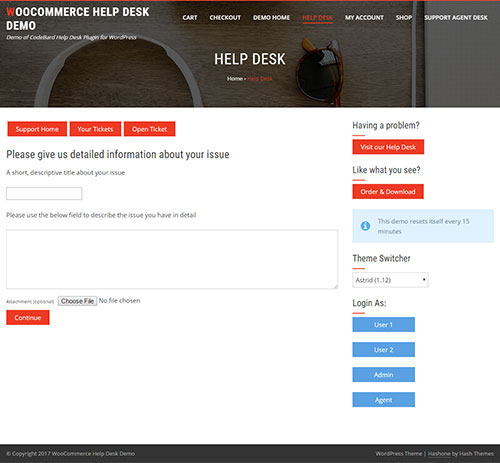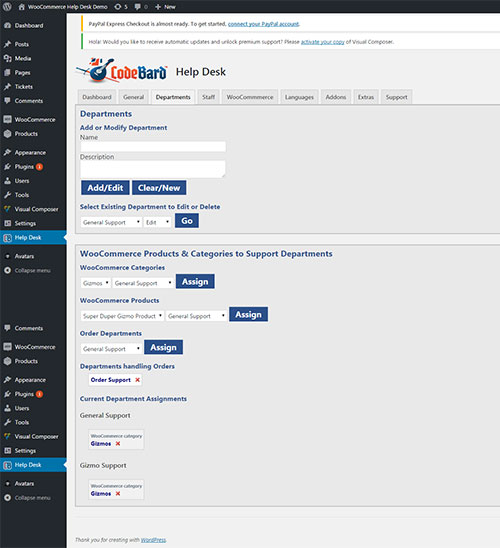 Check out everything in the Live Demo.