Offer coupons valid for locations of your choice.
WooCommerce Coupons by Location restricts coupons by customer's billing or shipping country, state, city, zip, pin code or postal code.
According to research, customers convert more when offered a discount. Additionally, offering location aware, contextual offers significantly boosts conversion rates.
In short, you can get double increase in conversion rates with this unique plugin – WooCommerce Coupons by Location.
Features
Restrict Coupons by Country, State, City, Zip/Pin/Postal code
Great for Local Marketing
Delight Customers With Offers They'd Love
Allows Entering Custom Locations
Compatible With Other Coupon Rules & Plugins
Example Uses
Offer an "independence day special" coupon to customers from United States on 4th July.
Offer a "best football players" discount to customers from FIFA 2014 semi-finalist countries.
Cut a deal with "local love" discounts for customers in the same city as you.
How to Use
Here's how you can create a new coupon and restrict it to be used by customers from locations of your choice.
Go WordPress Admin – WooCommerce – Coupons
Click on Add Coupon (or edit an existing coupon)
Go to the Usage Restrictions tab in this coupon's settings.
Locate the Billing Locations option.
You can start typing a country name in the text box. Coupons by Location will auto complete country names. Press enter to select that country.
You can type in state or city names in this box too. Press enter after typing to add that location. This will work even if the name is not auto completed. As long as customers location exactly matches the location you enter, coupon will be applied.
Custom locations you enter (e.g. city, state etc) will be saved for later usage. So you will get them in auto complete next time.
Complete adding all locations you want to restrict this coupon too.
Also setup discount parameters and other conditions you want on this coupon.
Save the coupon.
Here's a screenshot that explains this process.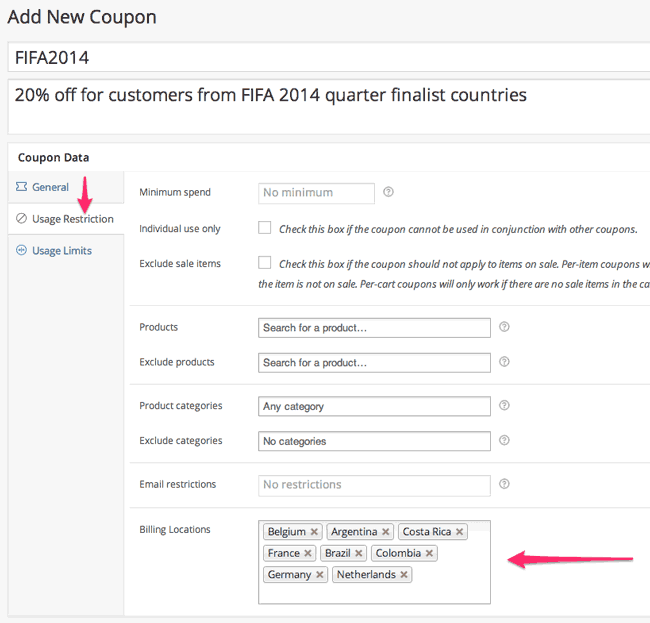 What happens when customers use this coupon?
When someone uses this coupon, the coupon will be applied only if all the rules match.
Coupons by Location will check customer's billing country, city and state values for a match. If any of the locations you've entered in coupon setup match customer's billing country, city or state, the coupon will be applied.
If customer is logged in, their registered billing location is used to check fo the coupon.
On checkout page, whatever billing address customer has entered, is used to check location restrictions.
This means non-logged-in users can not use a location restricted coupon on "Cart" page. But can use it on "Checkout" page.
Here are two screenshots explaining cases when a coupon is applied and when it's not.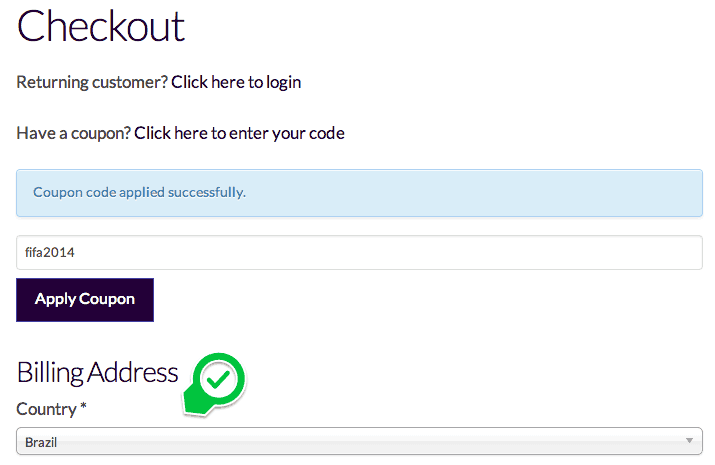 Coupon applied because location matches…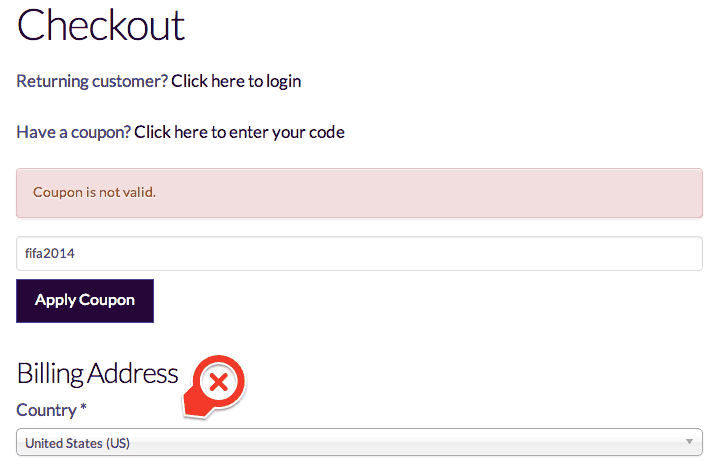 Coupon does not applied because location dot not match
Changelog
Version 1.2.7 (20-April-2017)
New: Compatibility with WooCommerce 3.0+
Update: Support for adding multiple values at once, in Billing/Shipping Location fields
Update: Will now support only WooCommmerce 2.5+
Update: POT file
Version 1.2.6 (Jun 16, 2016)
New: Compatibility with WooCommerce 2.6
Update: POT file
Version 1.2.5 (May 30, 2016)
Fix: Illegal string offset 'address'
Version 1.2.4 (Feb 3, 2016)
New: Tested up to WooCommerce 2.5
Update: Text Domain & Language Loader
Update: POT file
Version 1.2.3 (Aug 13, 2015)
New: POT file
Update: Changes in Language loader
Version 1.2.2 (Mar 5, 2015)
Now compatible with wooCommerce 2.3 and above
WordPress Multisite compatible now
Version 1.2.1 (Dec 16, 2014)
Fix: Invalid coupons were turning valid if location conditions matched
Version 1.2 (Dec 11, 2014)
New: Apply coupons based on Shipping address
New: Apply coupons based on Zip / Postal code
Version 1.1 (Sep 25, 2014)
WooCommerce 2.2 and WordPress 4 Compatibility
Version 1.0 (July 10, 2014)
Need Help?
If you need any help or have a question, feel free to contact us.