Super Store Finder for WordPress
Super Store Finder for WordPress is a fully-featured WordPress Plugin integrated with Google Maps API v3 that allows customers to locate your stores easily. Tailor-made with intuitive responsive design for smartphones, tablets and touch screen devices. It has powerful store locator admin that allows you to manage stores, tags/categories and customize styles, colors, labels, notifications, regions and map settings.
Setup is really easy and quick (Refer installation guide documentation here or a video guide here) and support is always reliable and fantastic.
This store locator WordPress plugin is compatible with Visual Composer and Cornerstone.
Follow our latest updates and videos on
Main Features
A lot of new features have been added in this WordPress plugin:
Easy to install and use Store Locator WordPress Plugin
Responsive Design and tailor-made for mobile devices (watch it running on a mobile device here.)
Flat theme store locator
Multiple store locator layouts to choose from
Supports Full Width Google Maps display
Supports multi-language (compatible with WPML or translation plugin)
Manage unlimited store locations
Full screen Street View feature
Extensive Map settings to show all stores, specific location or geo location.
Well-designed Store Filter with Collapsible Panel
Intuitive user-interface and notifications
Total stores counter
Manage Store Tags and Categories
Labelled map markers
Customizable Region
Customizable styles and colors via administrator
Customized labels and text captions
Import/Export address list using CSV file format
Upload beautiful images with zoom feature
Support custom markers
Drag and Drop markers or enter latitude or longitude manually during add/edit store
Built-in contact form for each store
SEO Friendly Store Locator
Can be used as Distributor / Dealer Locator
Extensible Features by using available add-ons (Learn more about add-ons here)
Features Highlight
Fully responsive and tailor made for mobile devices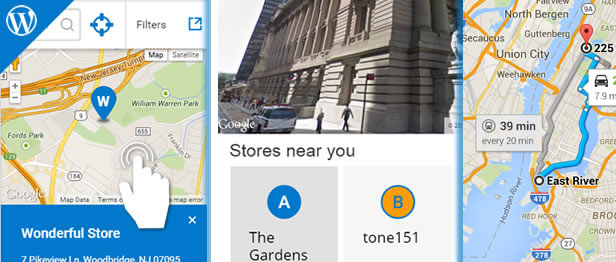 Super Store Finder for WordPress has intuitive responsive design with the highest aesthetic and is tailor-made for mobile and touch-screen devices. Multiple store locator design layouts are available which can be changed from admin settings page.
Powerful WordPress Store Locator Admin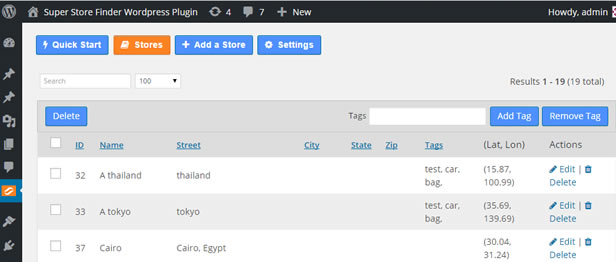 Manage your stores, tags, styling, map settings, labels, captions, regions, etc via powerful store locator admin.
Built-in Exact Geo Location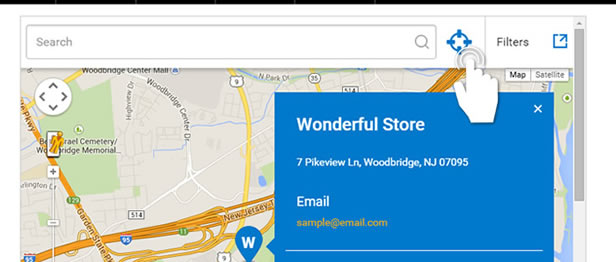 Super Store Finder is built-in with exact Geo Location which allows your customers to route and get to your store outlets the easiest way.
Extensive Map Settings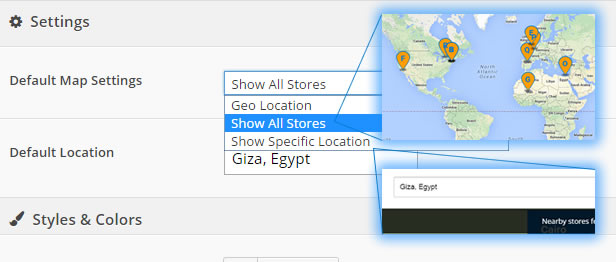 Decide to show all stores, specific location or use geo location when customers start browsing your store locator
Google Street View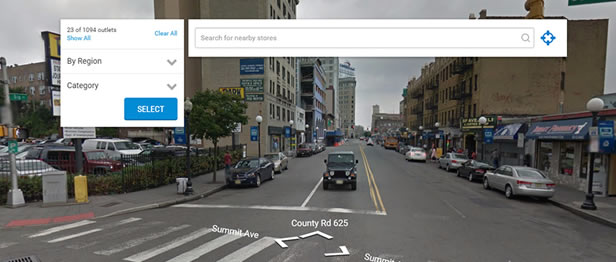 Enjoy viewing street view in huge scale screen size. Zoom, pan and navigate through the panoramic view of your favorite outlets world-wide
Slick Collapse-able Panel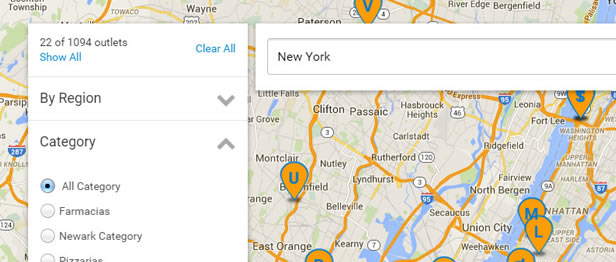 Slick Collapse-able panel to showcase available categories/tags and available regions which can be fully customized via admin.
Upload Beautiful Images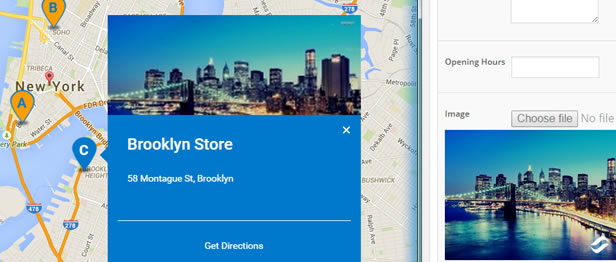 You can upload beautiful images that will be displayed on your ever engaging store locator.
Showcase a Video on your Store Locator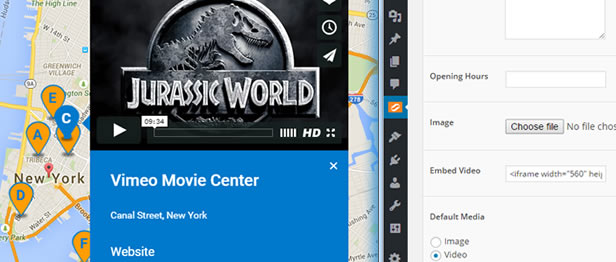 You can embed videos from YouTube, Vimeo, etc. to your store locator. Get customers to watch what you have to offer or let them watch a sneak peek trailer.
Set Custom Markers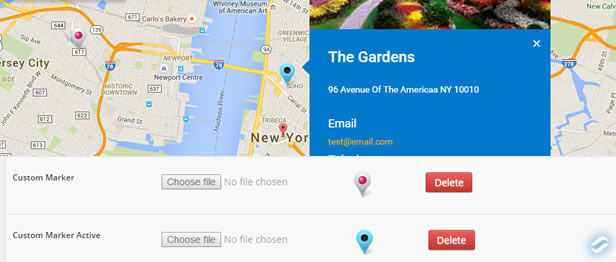 Have your own custom markers? Now you can simply upload custom markers via administrator.
Search stores by Region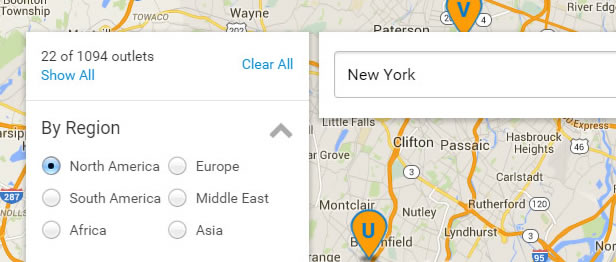 You can now search stores by region world-wide. As an administrator, you can customize point of interest which you can set for your customers to quickly know on your whereabouts.
Import and GeoCode Bulk Address List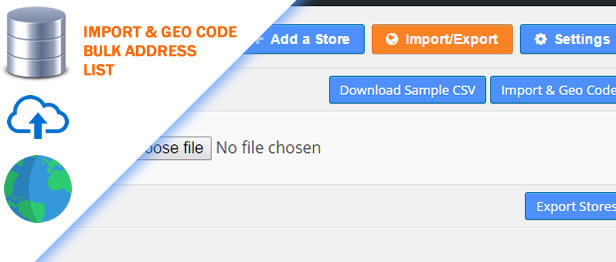 You can import and geocode bulk address list from csv file without any hassle via the administrator.
Drag and Drop Map Markers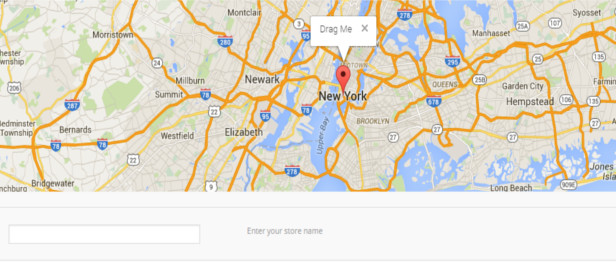 For precise latitude and longitude position, you can drag and drop the markers to pin point the most exact location of your stores.
Set your own labels for your store locator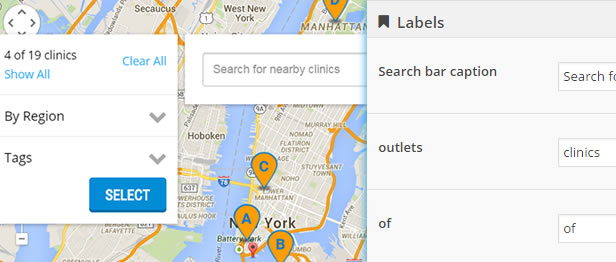 For instance, if you would like to showcase clinics, you can customize the labels and captions to suit your store locator via admin settings.
Customizable Colors and Styles
Customize Colors and Styles for your store locator to suit your company and website branding / corporate branding. You can change the map color, panel colors, text colors and many more from the administrator's panel.
Custom Map Styling Code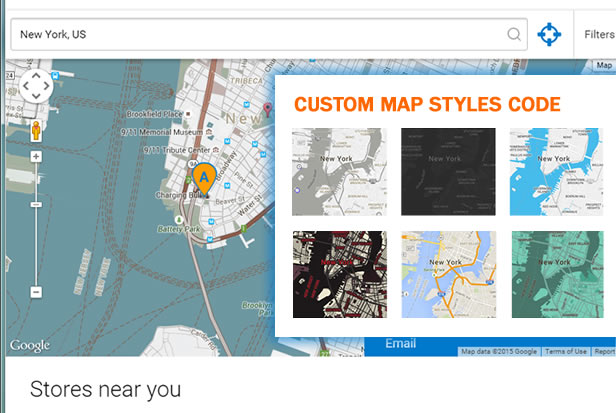 Need a map style that suits your website user interface? You can use custom Google Maps code, or easily get great available style codes from snazzymaps.com and copy/paste it via admin settings page.
Extended Features with Add-Ons
Extend your WordPress store locator features using available add-ons as below.
Fast and Reliable Support
We provide fast and reliable support to our customers, whether its an inquiry, troubleshooting, customization and special requests. If you need help with installation, just send us a message via our profile page here.
For knowledge base and forums you can visit the following links:
You can visit https://superstorefinder.net/support and also follow us on envato for new releases and products here
What are buyers saying about Super Store Finder
"First, I would like to say?Great Job! One of the better store locator systems I have come across."
-gruberdesigns
"I just bought this and started using it on my site within minutes. I am not a programmer and this was still very easy!"
-amymariejones33
"Just purchased the Super Store Finder and it's fantastic, exactly what my client needed and just the right level of customisation, so thank you for your efforts! Great value script."
-Anna Trundle
"Fantastic product & best support. thank you?"
-tansuokurer
"This is the best store finder script on codecanyon! Keep up with a great job!"
-Pinki
You can find more reviews from real buyers in testimonials page.

Real world usage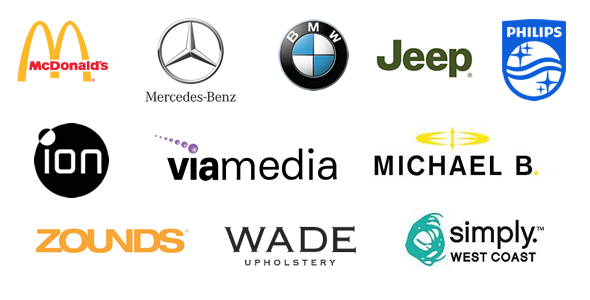 More real world examples available here.
Please note that all store finder designs are copyrighted by their authors.
If you wish (or don?t wish) your site to be listed here, please send us a message.
Changelog / Updates
4.0 (Last updated: 8 Aug 2017) – Patch Details
Added new layouts for Super Store Finder
Added mobile gesture setting
Added compatibility with custom category marker add-on
Added option to show / hide geo locator icon
3.6 (Last updated: 26 Aug 2016)
Added multiple roles settings at admin
Added Google Region settings at admin
Added Google Language settings at admin
Added scroll enable/disable feature settings at admin
Added State and Zip Label settings at admin
Added Tel/Fax link settings at admin
3.6.1 (Last updated: 28 Oct 2016)
Centralized the alignment of pop up image
Added advanced zoom settings at admin
Added restore default settings button at admin settings page
3.6.2 (Last updated: 11 Dec 2016)
Added setting option at admin to move the search bar above the Map (More Info)
Fixed minor CSS compatibility issue
3.6.3 (Last updated: 9 Mar 2017)
Added setting for marker letter color
Fixed Notification bar hide/show settings
3.6.4 (Last updated: 1 May 2017)
Added more settings font/background colors for store locator content
Fixed category select button consistency with search button
3.5 (Last updated: 22 June 2016)
Added Compatibility with WPML
Added Google API key field at settings page
Added Scroll To at settings page
Fixed show all link if zoom settings is not auto
3.5.1 (Last updated: 16 Aug 2016)
Minor CSS fix and added compatibility to some WP Themes and Plugins
3.4 (Last updated: 17 June 2016)
Added compatibility with Reviews & Ratings Add-on
You can now add categories beginning with numbers
3.3 (Last updated: 30 May 2016)
Added compatibility with Distance Radius Add-on
Added compatibility of Opening Hours collapsible icon with minor WP themes.
3.2 (Last updated: 4 Dec 2015)
Notice: All add-ons files are required to be updated
Added result header settings at admin (More info available here)
3.2.1 (Last updated: 7 Feb 2016)
Added pagination feature that can be enabled via admin (more info)
3.2.2 (Last updated: 31 Mar 2016)
Fixed minor compatibility issue with the latest version of Visual Composer
3.2.3 (Last updated: 18 Apr 2016)
Fixed sort with alphabetical order for show all link
Fixed pop up compatibility issue with Avada Theme
Fixed default location loading if visitor does not allow location access
3.2.4 (Last updated: 1 May 2016)
Fixed filter box CSS conflict with minor WordPress themes
3.2.5 (Last updated: 9 May 2016)
Fixed images link if server is using HTTPS (SSL)
3.1 (Last updated: 4 Dec 2015)
Notice: All add-ons files are required to be updated
Added zoom level settings
Added mouse scroll on map settings
3.0 * MAJOR UPDATE *(Last Update 21 Nov 2015)
Notice: Upgrade instructions available here.
Added store locator page loader
Added contact form for each store
Added labels for contact form at settings page
Added manage region page at admin
Added Filter panel show/hide options
Added collapsible icon for Opening Hours
Added HTML editor for Opening Hours
Added HTML editor for Description
Moved Add Store link within Stores page
Moved Add Region link within Regions page
Added shortcode options to show default category upon load
2.6 (Last updated: 31 Oct 2015)
Added Add-on page at admin to allow extensibility of Super Store Finder features (Learn more about add-ons here)
2.6.1 (Last updated: 2 Nov 2015)
Distance radius can now be configured in settings page
Added settings to show or hide result list
2.5 (Last updated: 25 Oct 2015)
Fixed search button icon and customizable View More button at settings page
2.4 (Last updated: 17 Oct 2015)
Cleaned-up wordpress admin codes and misc debug error codes
2.3 (Last updated: 22 Aug 2015)
Cleaned up General and Misc CSS
2.2 (Last updated: 8 Aug 2015)
Added the search widget feature (Refer Quickstart page)
2.2.1 (Last updated: 11 Aug 2015)
Fixed inverted latitude/longitude after address field blur action
Fixed table prefix at import/export page
2.1 (Last updated: 31 July 2015)
Removed misc CSS codes that may affect major WordPress Themes
2.1.1 (Last updated: 4 Aug 2015)
Fixed geo ip function for drag and drop add / edit store at admin for certain servers
Fixed header output errors on certain servers
2.0 (Last updated: 30 July 2015)
Fixed bulk importing issue in patch 1.9
Added drag and drop marker that will auto detect latitude and longitude in add/edit store.
1.9 (Last updated: 23 July 2015) – Please follow upgrade instructions here
Added external url field
Added custom markers functionality for each store
Fixed opening hours field not showing at frontend
1.8 (Last updated: 4 July 2015)
Added the functionality to add space and capital letters for tags/categories
1.7 (Last updated: 22 June 2015)
You can now embed videos from YouTube, Vimeo, etc to your store locator (upgrade instructions here)
1.7.1 (Last updated: 25 June 2015)
Updated Pretty Photo libraries to 3.1.6 due to security vulnerabilities
1.6 (Last updated: 16 June 2015)
You can now paste custom google maps style code (i.e snazzymaps.com) via admin settings page
1.5 (Last updated: 10 June 2015)
Added show/hide region in settings page
1.4 (Last updated: 2 June 2015)
Fixed tagging issue at frontend not reflecting admin
Fixed website link issue with http
1.3 (Last updated: 27 May 2015)
You can now set custom markers at admin settings page
You're able to upload images and display it at your store locator with zoom feature
You can show/hide labelled markers (A, B, C, etc)
1.2 (Last updated: 21 May 2015)
Fixed timeout issue during import
Fixed website link issue with http
1.1 (Last updated: 20 May 2015)
Added import/export feature using CSV file format