PopTrends Lists Your Popular, Trending, Most Loved and Highest Rated Posts in a Tabbed Widget
Install & activate PopTrends, and we'll start counting how many times your posts and other custom post types are read. We'll also keep track of whether or not some of your posts suddenly gets high traffic.. this means that those posts will become trending.
We'll also add heart buttons and 5-star rating buttons to your posts and custom post types, so that your visitors can vote on them. These are configurable, you can opt to display those buttons on the top of your posts, on the bottom of your posts, or both. You can also opt to not display them and just place them yourself within your content or child theme via our [poptrends_heart] and [poptrends_rate] shortcodes.
These are all listed in our documentation
Customizable. You are in charge of what you want to display, choose to show only popular and most loved tabs. Choose to display a dropdown box for date ranges. Choose to display popular blog posts, or any other custom post type that you have (e.g. portfolio). Choose from 3 styles with configurable colors, or easily style the widget to your liking.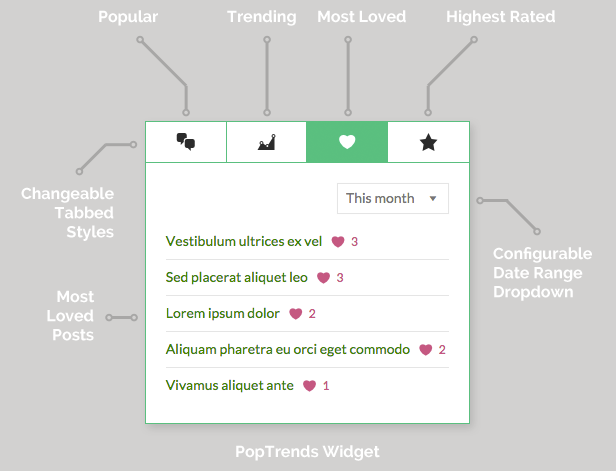 Speed is important to us, so we've included transient caching into the plugin. Generating PopTrends lists can be quite computation intensive, especially if you have a large website with a lot of content. You can be confident that using PopTrends will not compromise your site's loading time, you can configure the plugin to cache daily, weekly, monthly, yearly, and for all-time lists for different times e.g. cache the list generation for 1 minute, 10 minutes, 1 hour, 3 hours, daily, etc.

Full Feature Set
Tabbed Widget Display For Easy Switching
Display text or icon tab labels
Display only a specific date range: Today, This Week, This Month, This Year & All Time
Or display a drop down for multiple date ranges
Display PopTrend lists for any post type
Automatically Adds Heart & Star Rating Buttons to your posts and custom post types
Or use our shortcodes to display them where ever you like
Configurable Caching Settings
Can Be Used for Any Custom Post Type
3 Styles, Easily Styleable, Instructions Included
WordPress standards
Lightweight,
Cleanly coded in WordPress standards
Uses WordPress styles and structure, so it will blend with your themes (unless they're not using WordPress standards that is)
Having Trouble with the Plugin?
Head over to the support tab and check out the FAQs, or submit a support ticket!
Enjoying the Plugin?
Be sure to leave a rating and review and show us some love.
Check out Our Other Stuff








Updates
Version 1.1 – April 5, 2016
* Enhanced: New plugin structure
* Fixed: Counts are not shown in certain scenarios
* Fixed: Some lists were displaying whole ranges of counts
* Change: Removed Titan Framework, now needs the plugin activated
Version 1.0
* Initial release