MonsterTV is based on the elementary scheme: attraction of users attention through nice animated graphics, hitting the target audience through the informative text and offering the Target-Action.
Some purposes of this product:
To attract new subscribers to your Youtube, Vimeo and Facebook profile.
To tell about your business, startups.
To pay attention to some of yours digital products.
To offer a bonus for your website users.
The unique of your website. Plus to your brand.
To publish any important message for your target audience.
The Social advertisement.
Just for fun of your website users.
All examples you can see in Screenshots or Video Preview (the buttons that hardly above on this page).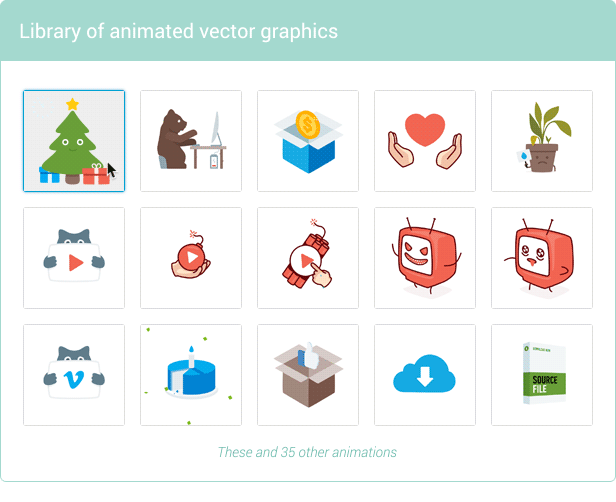 Unique vector illustrations with small looped non-aggressive animation.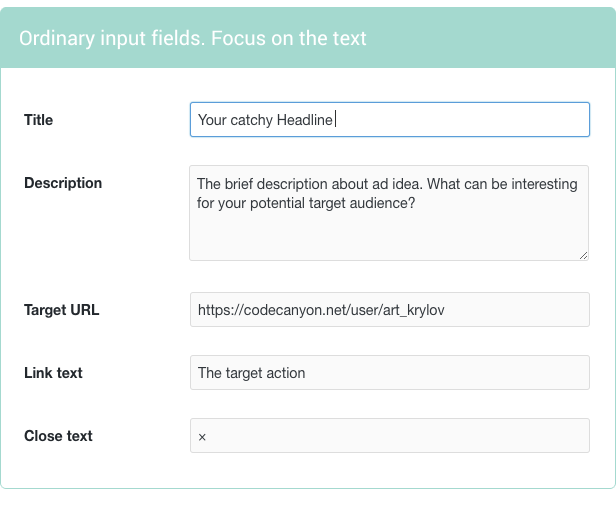 The right text can create a good conversion.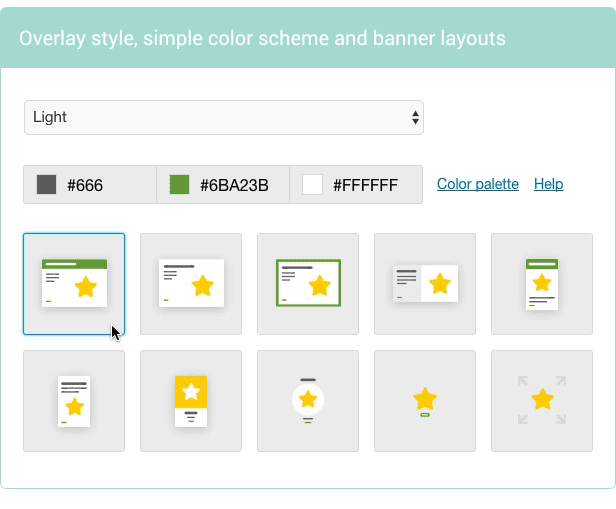 It is almost like LEGO. You don't need to worry about details. Just be engaged in creative activity – choose and combine. The thematic presets and library of fresh resourceful motion graphics can save your time and money.
If you don't found suitable animation, you can create it by yourself by using Adobe After Effects. Tutorial is included in plugin files.

Or can send me an e-mail and I will do what you want. My regular price is 5$ per one vector icon + animation. My free support: I can customize any images from plugin library (colors, size, animation scenario, convert vector to simple GIF) individually for each buyer.
Any animation can be displayed as a widgetbox or as a modal window (popup). Enter the shortcode between existing text content of any WordPress page for local displaying or inside of standard "Text widget" for global displaying.
More: use MonsterTV shortcodes together with beautiful Visual Composer.

The Tracker calculate the number of successful clicks on target links. It's only effective indicator of users conversion.


New animated graphics. New design compositions. My interest is a development of motion design skills and improvement of this product for users.
Coming soon: e-commerce category in the animation library.
Feature list of actual plugin version.
10 design layouts are built in the three-colored scheme
Special layout that displays animation without additional elements. 100% in width of parent container until full screen state.
3 overlay styles:
– Light (The site content looks colourless, blurry and light).
– Dark (Looks like previous one but dark).
– Colored (experimental style with an animated color of background).
50 unique vector illustrations with small looped animation on topics:
– Youtube, 15.
– Vimeo, 8.
– Facebook, 2.
– Donation, 8.
– Downloads, 6.
– Message, 9.
– Other, 2.
Information about animation:
– File format: JSON SVG.
– Average file size: 70 Kb.
– Rendering method: canvas.
– Frames frequency: around 60 FPS on modern devices
(it's better than GIF, especially for mobile devices).
– Ideal clarity of the image because this is vector graphics.
Cloud-based delivery of all animation files (CDN technology).
Opportunity to use customized animation. You can upload your own animation file to the MonsterTV. Tutorial "How to do it" is included in plugin files.
Opportunity to use external pics. You can provide a link to any external animation file in the Internet. For example, you can use any GIF image from giphy.com.
20 ready-to-use settings presets.
Any quantity of ad campaigns with separated banners and popups.
Mobile first – a strategy for adaptivity of layouts. Focus on mobile traffic.

Hernan Torrisi for the great Bodymovin – github.com/bodymovin.