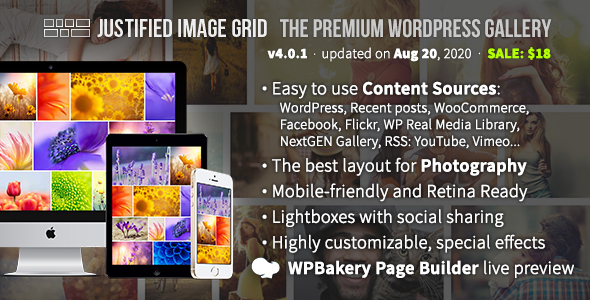 The #1 photo gallery on CodeCanyon – 21,000+ customers agree!

Justified Image Grid is a powerful and responsive WordPress gallery plugin, expertly designed to showcase your images in the most beautiful and authentic way. Whether you specialize in capturing magical wedding days, creative designs and innovations, expressive portraits, extraordinary architecture, or a journalistic exploration, your photos tell a unique story and deserve to be presented in their full glory.

Unlike many gallery plugins, Justified Image Grid for WordPress organizes your images into a perfectly balanced horizontal photo grid that draws the eye from left to right, just as you would read a narrative. There is a natural flow to your photographic story, and the images work together as elements of a complete whole. Most importantly, your images retain their original aspect ratio, so they display exactly as you intended.
What's more, this premium WordPress gallery is fully compatible with your existing sources. You can simply load content from Facebook or Flickr and see it transformed into a stunning gallery display, using jQuery. This versatile gallery plugin also makes it easy to completely remodel your new or existing NextGEN galleries, for a vastly superior display performance. Justified Image Grid works seamlessly with the premium WP Real Media Library plugin to bridge the gap between your albums and your gallery, giving you access to your native media library and effortlessly organizing your collections and folders.
For an even more personal and compelling gallery experience, you can add special effects to your photos, such as desaturation, softening, or black and white. This comprehensive gallery plugin also allows you to integrate a bundle of beautiful free and premium lightbox options into your Justified Image Grid WordPress Gallery, to define how your photos display after a thumbnail click. Mobile friendly and retina ready, Justified Image Grid gives you complete confidence that your gallery will perform flawlessly on any device, orientation or pixel density.
There's so much more to discover with Justified Image Grid for WordPress – get started today!
Ease of use
Justified Image Grid for WordPress is easy to install and gives you full control over every aspect of your photo gallery – no coding skills required! Simply set the plugin to automatically take over your existing WordPress galleries, or more experienced users can choose to tap into the detailed settings at every level. When combined with WPBakery Page Builder, the bundled add-on makes it possible to live preview any change of your carefully crafted galleries.
Support
Extensive documentation is freely available, to help you get the most out of your download. We also provide personal, genuine and in-depth support, covering technical and compatibility issues, and guarantee a fast response.
Buy with confidence: the author is here to help!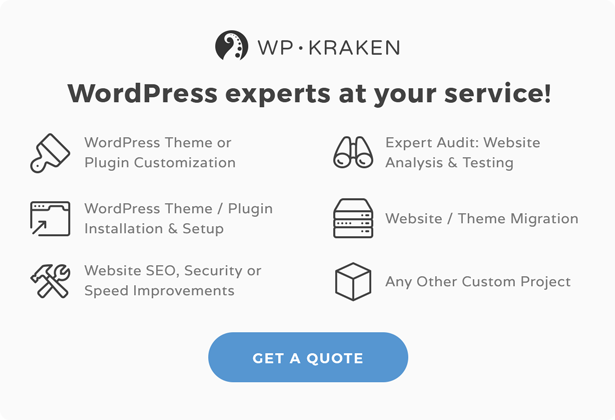 Features
Summary of all features
Visual aspects – take full control of your gallery:

Automatic justified layout – Horizontal grid that leads the eye in the natural reading direction (LTR/RTL).
Flexible, dynamic row height with incomplete last row handling.
Limit image count or maximum rows.
Hidden limit – limit the number of thumbs but see all images in the lightbox.
Aspect ratio, random width – Redefine the shape of the thumbnails, for more uniform or fuzzy grids.
Responsive gallery – The gallery adapts to any width for different devices, screens and orientations.
Mobile specific settings that apply when a mobile device is detected.
Retina ready – Thumbnails are served to match the screen capabilities of your device. Supports resolutions much higher than retina.
Special effects – Such as de-saturate, blur / soften, sepia, glow – on the fly.
Well-customizable – Overlay, border, shadow, icon on the thumbnails.
Thumbnail captions – Sliding and fading animation, polaroid look, translucent/gradient or blurry background, vertical centering and more!

Behavior – gallery extras:

Custom links – Open a specific page or video.
Video gallery support – YouTube, Vimeo, self-hosted.
Filtering – Narrow the gallery by tags, categories, custom taxonomies.
Load more – Speed up gallery loading, and expand it with a click.
Infinite scroll – Scroll to load more content to the gallery.
CDN compatibility – Your key to lightning-fast galleries.
Custom presets – Create and re-use a unique combination of settings.
Right click protection against theft on thumbnails and in the lightboxes.
Download link with browser pop-up to save the image.
Use multiple instances on the same page.
Conditional script loading – plugin files will only load when needed, not affecting other pages.
Unconditional script loading with AJAX theme support.

Hundreds of settings with contextual help.
Shortcode Editor to style each gallery individually – and create template tags
Built-in WPBakery Page Builder addon, including live preview during frontend editing.
Built-in presets to apply looks out of the box.
Content sources – various sites and plugins you may already use:

WordPress (can take over existing galleries)

Post gallery – Attached images
Recent posts – Post or page grids
Images by taxonomy – Categories, Tags
Images by ID – Replace native galleries
Custom post types – WooCommerce, Theme portfolio
Media Library Assistant (replace its display)

NextGEN Gallery (can take over existing galleries)

Albums
Galleries
Search
Tag galleries
Tag albums
Recent images
Random images
Single picture

Real Media Library (can take over existing galleries)

Galleries – Including straight to lightbox
Collections – Containing galleries and collections
Folders – Including top level overview

Facebook

Single album
Overview of all albums
Multiple albums
Straight to lightbox albums
Latest album

Flickr

Photostream
Albums (Photosets)
Collections (multi-level)
Flickr search (global)
Gallery
Favorites
Group pool

RSS feeds

Youtube
Vimeo
DeviantArt
500px
Pinterest
Imgur
Tumblr

Breadcrumbs for sources that support album-gallery relationships.

Lightboxes – bundled or mutually compatible:

prettyPhoto – Default desktop lightbox with social sharing using JIG Smart Deeplinking.
PhotoSwipe – Default mobile lightbox with individual social sharing.
Magnific Popup
ColorBox
FooBox
Jetpack Carousel

WPML and translation ready. It covers admin areas and applicable settings.
Includes Spanish translation.
Adds images to XML Sitemap with WordPress SEO plugin by Joost de Valk.
Animated GIF and transparent PNG support.
Display gallery or the lightbox for members only (optional).
Videos – make sure you watch them in 1080p!
#1 How to install
#2 Settings and creating a gallery

Please note:
Extended license doesn't cover multiple uses! You need to purchase a regular or an extended license for every site. You can't resell the plugin as part of a stock theme; the extended license does not allow you to do that.
The photos (Shutterstock) and WordPress theme (Avada) seen on the preview site are not included in the download.
This is not the vertical Pinterest style – read about what is masonry.
Updates / Changelog
v4 – August 20, 2020 – Big news. Central grid creation area with preview. Visually pick Media Library content instead of just IDs. New Filtering options (RML gallery, Author name, A-Z, Exclude terms). 25 default limit increased to 100. PhotoSwipe sharing menu fix. Faster admin area. New menu in the dashboard. Removed Google+, Instagram, Social Gallery.
New features:
Create New Grid: Pre-create and save grids with a preview panel. You can use Enter to refresh the preview. This allows easier use in builders or anywhere else where you lack access to the Shortcode Editor. Comes with a new shortcode attribute called "gallery", similarly how other gallery or slider plugins operate. This paved the way for various builder blocks/modules to increase compatibility.
Long-awaited feature to pick images for your gallery the WordPress native way (visual picking, editing, sorting). It's available from a button next to the IDs input of the Shortcode Editor.
The new central gallery creation interface comes with revisions so you can roll back changes to your saved grids. It's built upon custom post types of WordPress.
Build upon your saved grids, as if they were presets.
Suppress all errors with a new setting. It can hide them for logged out users, which is now the default, so your visitors won't see JIG errors. Can also be turned just on/off or follow WP_DEBUG.
Filter images based on their parent WP Real Media Library gallery/folder. This lets your visitors narrow to a particular gallery that contributes images to a grid.
Filter by author name. This works with WP media library images, Recent Posts, and Flickr!
Exclude terms for filtering. If you wanted to drop a filter you no longer need to use "Filter terms custom order" just to do that.
A-Z filter option, that uses the first letter of each image title. Works with any content source.
"Exclude taxonomy" and "Exclude taxonomy term" settings that can be combined with any source based on the Media Library, even RML. For example, "sold paintings" can be removed from galleries this way.
Developers: WP filter for Recent Posts post title, "jig_recent_posts_title".
Flickr collection mosaics are now replaced with the primary image of an included Flickr Set. See more info about the mosaics.
Improved:
You'll find JIG in its own menu in the WordPress Dashboard, as it's no longer tucked away under Settings.
Bumped default limits from 25 to 100 in case of Facebook and Flickr sources.
The settings panels are more performant since their JS and CSS now reside in files, and are also minified. Now using wp_localize_script() for admin scripts.
Shortcode Editor height increased to maximum available for easier use.
Auto-copy generated shortcodes in the Shortcode Editor.
See quick toast messages as feedback in the Shortcode Editor whenever you successfully load or create-copy a shortcode
Re-tested compatibility with WPBakery Page Builder with its latest version, updated the Shortcode Editor title to reflect the changed product name.
Added various links to the examples on the demo site for key features such as content sources.
New fancy link underline animations in the dashboard.
Filter button CSS no longer capitalizes each word by default (for new users only). When setting up "Filter terms custom order" this caused confusion.
Now hiding taxonomy-related settings in the Shortcode Editor's General tab when no taxonomies are available on media library images.
Color picker got removed as it was silly not being attached to an input.
PhotoSwipe arrows now consistently display on mobile devices as well. It's easier to go through a large gallery by tapping instead of just swiping.
Now minifying all JS and CSS scripts of the plugin. Unminified scripts are no longer in the installable plugin ZIP, but separated as part of a dev build in the package you download from CodeCanyon (in case you ever need them).
RSS feeds now show more verbose error messages (Sometimes Vimeo blacklisted heavy users requiring a captcha. The new error handling can report that it's a HTML page. Instead of trying to parse it as XML and reporting invalid characters.)
Removed the Include setting from the General tab of the Shortcode Editor, as it was confusing and almost just an alias to IDs. In turn, you have "Exclude taxonomy term" which is way more useful.
Removed Google+ and all of its traces (especially from the lightboxes). The platform ceased to exist.
Instagram source is removed, for now. If you are somehow still using it, do not update. More info about this decision.
Social Gallery compatibility is removed. It's no longer maintained and doesn't work well enough. Sorry if you were still using it, but things need to move toward more modern solutions. We cannot wholeheartedly recommend it anymore, hence the removal.
Bugfixes:
PhotoSwipe sharing dropdown menu glitch fixed. It got either stuck or wouldn't open on some mobile devices. More info.
When choosing what to show from Facebook, the Videos album had a broken cover image.
Filter terms custom order (and the new Exclude filter terms) works better with & characters in terms.
Special Effects by Pixastic cross origin problem for Flickr-generated collection mosaic thumbnails (the grey ones, or if they are ever restored). TimThumb is no longer auto-disabled for these.
Magnific Popup visual bug with the default Twenty Twenty theme (grey bar under picture).
PrettyPhoto Pinterest button width detection improved, count won't cover the X close button. Also fixed the error Cannot read property 'top' of undefined at measurePinBtn.
v4.0.1 Hotfix: Removed namespaces, fixed jig-sce-tinymce script loading error in the editor, misaligned help bubbles in the Shortcode Editor (flex layout), auto take over didn't work.
Updated:
jQuery to 3.5.1 and Migrate to 3.3.1
v3.9.7 – May 26, 2020 – Facebook Pages fix
v3.9.6 – May 16, 2020 – Facebook API update, RML improvements & fixes, WP/LR via RML, use WP thumbnails
v3.9.5 – July 12, 2019 – PhotoSwipe touch, YouTube re-fix
v3.9.4 – July 11, 2019 – YouTube source restored
v3.9.3 – January 24, 2019 – Facebook API changes regarding Pages
v3.9.2 – December 7, 2018 – Compatibility improvements with Gutenberg and NextGEN
v3.9.1 – September 17, 2018 – Facebook pages fix
v3.9 – May 27, 2018 – Facebook API v3 – use your profile and pages again, RML v4
v3.8.1 – April 9, 2018 – Facebook API update
v3.7 – September 2, 2017 – Important fixes for YouTube, 500px, FooBox
v3.6 – June 11, 2017 – PhotoSwipe IOS 10.3 update, other smaller fixes.
v3.5 – February 14, 2017 – Twitter summary card, PhotoSwipe zoom setting, Social sharing improved, RML v2.8.3 compatibility, Jetpack Photon and Facebook fixes.
v3.4.2 – January 23, 2017 – Hotfix for RML description and cover image, NextGEN search.
v3.4.1 – January 11, 2017 – Hotfix for PHP errors, PHP 5.3 or newer is now required.
v3.4 – January 11, 2017 – RML v2.8 compatibility, some Instagram-related changes, better sitemap.
v3.3 – November 2, 2016 – Real Media Library and NextGEN compatibility refreshed, 0-byte download problem fixed, many improvements and fixes.
v3.2 – July 11, 2016 – Visual Composer element with live preview, light skin for PhotoSwipe, jQuery v3, RML dropdown fix, many more improvements and fixes.
v3.1.1 – May 13, 2016 – Hotfix for Spanish sites.
v3.1 – May 12, 2016 – RML image order, cover photo, description, foreign characters compatibility. YouTube and DeviantArt RSS fix. Many more improvements and fixes.
v3.0.2 – April 2, 2016 – Fixes regarding the Shortcode Editor, old NextGEN, RML, IE browser.
v3.0.1 – March 18, 2016 – Shortcode Editor hotfix.
v3 – March 11, 2016 – WP Real Media Library compatibility, Media Library Assistant auto take-over, SVG support, initially load, many improvements and fixes.
v2.9 – October 31, 2015 – Spanish translation, disable cropping on mobiles, general improvements for PrettyPhoto, Pinterest and NextGEN.
v2.8.2 – August 23, 2015 – Important security update, solution to Facebook problems, no double images in RSS feeds, small prettyPhoto fixes.
v2.8.1 – August 10, 2015 – Fix for TimThumb on older PHP versions, prettyPhoto facelift, improved IE compatibility.
v2.8 – August 2, 2015 – Thumbnails can no longer exceed screen height, title is no longer outside the frame in prettyPhoto, fix for Firefox 40+, and other improvements and fixes.
v2.7 – June 11, 2015 – Fixed Tweet button, process shortcodes in captions, prettyPhoto align and expand button fix, many other improvements and fixes.
v2.6 – May 10, 2015 – Many PhotoSwipe 4 related additions, better YouTube and Vimeo, Facebook cover picture icons get refreshed, general fixes.
v2.5 – April 23, 2015 – YouTube playlist, no longer using YouTube API v2 for their RSS feeds, instant preview picture in Facebook share with Smart Deeplinking, correct RSS feed order, latest PhotoSwipe, many improvements and fixes, also involving security.
v2.4 – December 19, 2014 – New PhotoSwipe 4 with Smart Deeplinking (social sharing for mobiles), better sharing, improved Facebook source performance
v2.3.1 – November 17, 2014 – Infinite scroll offset, comments for recent posts, better Facebook. Also improvements, fixes.
v2.3 – October 11, 2014 – Improvements and bugfixes
v2.2.2 – August 30, 2014 – Minor update
v2.2.1 – August 29, 2014 – Hotfix
v2.1 – Aug 12, 2014 – Facebook API v2, Magnific Popup, NextGEN search, many improvements and fixes. Important! If you use photos from Facebook Pages, without an App, create a Facebook App before updating for an uninterrupted experience.
v2.0.4 – May 16, 2014 – SEO, quick improvements
v2.0.3 – May 14, 2014 – Hotfix
v2.0.2 – May 12, 2014 – Flickr SSL, better translatability, show images by any taxonomy, cosmetic fixes regarding Retina Ready and special effects, better (video) sharing from prettyPhoto, numerous improvements and bugfixes
v2.0.1 – March 31, 2014 – Hotfix, FooBox related bugfix
v2 – March 27, 2014 – Custom presets, preset authority, video player, exclude Facebook albums, many improvements and bugfixes
v1.9 – February 22, 2014 – Automatic updates, better tabs support, AJAX, more flexible borders, major improvements to Facebook overview and prettyPhoto Pinterest pin button
v1.8 – December 20, 2013 – Christmas update – Flickr collections, Multiple Facebook albums, new Recent posts features, individual prettyPhoto social tools, WP3.8 compatibility and much more
v1.7.2 – November 12, 2013 – Flickr search, Facebook friends, improvements, bugfixes regarding NextGEN, filtering, compatibility, 3rd party script updates
v1.7.1 – October 3, 2013 – Hotfix update
v1.7 – October 1, 2013 – Retina ready (native HDPI display support), vastly improved Filtering, theme and prettyPhoto compatibility (problems that were most often surfacing as "social tools are not visible")
v1.6.2 – August 26, 2013 – Bugfixes, maintaining NG2 compatibility
v1.6.1 – August 26, 2013 – Hotfix and a new small setting
v1.6 – August 26, 2013 – RSS Feeds (any image source), NextGEN 2 compatibility, larger Facebook images, animated gifs, settings import/export and uninstall, custom taxonomy filter for Recent posts
v1.5.1 – June 3, 2013 – Hotfix update that affects Filtering, Aspect Ratio and Facebook overview
v1.5 – June 1, 2013 – The biggest update yet! – Instagram, Filtering, Facebook overview, Fixed aspect ratio, Randomize width, Individual Facebook like with prettyPhoto advanced deeplinking, better SEO, Admin interface improvements, and much more…
v1.4.9 – May 1, 2013 – Vertical caption centering, infinite scroll, Jetpack Carousel…
v1.4.8 – April 4, 2013 – New shortcode options, more bugfixes, some improvements
v1.4.7 – March 21, 2013 – Important bugfixes
v1.4.6 – March 18, 2013 – Jetpack Photon compatibility, NG+WPML, CDN support, better SEO, bugfixes
v1.4.5 – February 12, 2013 – User suggested new features, NextGEN core changes, browser and jQuery compatibility bugfixes for the shortcode editor, mobile experience improvements
v1.4.4 – January 18, 2013 – Minor update
v1.4.3 – January 15, 2013 – Minor update regarding NextGEN (when soft disabled temporarily)
v1.4.2 – December 28, 2012 – Minor update
v1.4.1 – December 18, 2012 – Minor update
v1.4 – December 17, 2012
v1.3 – September 26, 2012
v1.2 – August 6, 2012
v1.1 – July 6, 2012
v1.0 – July 1, 2012 – Initial CodeCanyon Release
See the complete changelog on the plugin's website.
Source