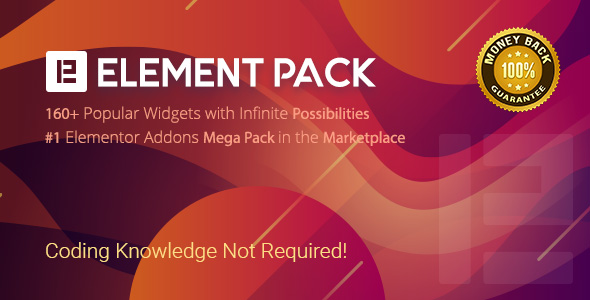 Ultimate essential addons for Elementor Page Builder with 160+ of the most popular and essential elements that you need for everyday use in website page building.
Development of the Element Pack addons for Elementor has the world's best practices in code standard and meets proper validation using the latest CSS, HTML5, and PHP 7.x (Tested up to 7.4)
technology to bring you a professional addons for the Elementor Page Builder Plugin that is WordPress 5.5.x ready and compliant.
Element Pack for Elementor includes the most commonly used elements (called widgets) that help you easily manage your website content by simply using the drag and drop ability.
There is absolutely no programming knowledge required, seriously!
Because now you can easily one-click live copy and paste into your website. Even you can import them from the template library.
It's also multilingual ready, including 15+ languages and support RTL language.
Included Ready Made Homepages:
110+ Pages and 1100+ sections/blocks + 160+ Header and Footer already included more pages, blocks, header and footer design are coming very soon…
Some Customer Reviews
Every Widget Control is Now in Your Hand
Element Pack Included Widgets
Carousel
FAQ
News Ticker
Post Slider
Post Card
Post Grid
Post Grid Tab
Post Gallery
Post List
Post Block
Post Block Modern
Single Post
Table of Content
Testimonial Grid
Testimonial Slider
Testimonial Carousel
Thumb Gallery
Timeline
Accordion
Advanced Image Gallery
Business Hours
Circle Menu
Custom Carousel
Custom Gallery
Comment
Contact Form
Device Slider
Document Viewer
Flip Box
Panel Slider
Pricing Table
Pricing List
Lightbox
Modal
Navbar

Scroll Image
Slider
Slideshow
Switcher
Tabs
Toggle
Advanced Button
Advanced Heading
Advanced Google Map
Animated Heading
Audio Player
Call out
Countdown
Cookie Consent
Dual Button
Dropbar
Icon Nav
Image compare
Instagram
Member
Marker
Mailchimp
Offcanvas
Progress pie
Search
Scroll Button
Social share
Table
Trailer Box
Twitter Carousel
Twitter Slider
User Login
User Register
QR Code
Video Player

Weather
Booked Calendar
bbPress
BuddyPress Member
BuddyPress Friends
BuddyPress Group
Contact Form 7
Caldera Form
Download Monitor
Event Calendar Countdown
Easy Digital Downloads
Easy Digital Downloads History
Easy Digital Downloads Purchase History
Easy Download Portfolio Editor
Gravity Forms
Instagram Feed
Layer Slider
Mailchimp For WordPress
Ninja Forms
QuForm
Revolution Slider
TablePress
WP Forms
WooCommerce Add to Cart
WooCommerce Cart Page
WooCommerce Categories
WooCommerce Checkout Page
WooCommerce Carousel
WooCommerce Products
WooCommerce Tracking Form
Element Parallax
Parallax Background
Parallax Section
Section Particles
Scrollnav
Schedule Content
Sticky Section
3rd Party Plugins Supported
We are really happy to give support some of the most popular plugins. Here are some that we have widgets for now and more are coming soon.
Download Monitor [Partially Supported]
WooCommerce [Fully Supported]
The Event Calendar [Partially Supported]
Contact Form 7 [Fully Supported]
WP Forms [Supported]
Ninja Forms [Supported]
Gravity Forms [Supported]
Caldera Forms [Supported]
Instagram Feed [Fully Supported]
Mailchimp for WordPress [Fully Supported]
bbPress [Partially Supported]
QuForm [Partially Supported]
Revolution Slider [Partially Supported]
Layer Slider [Partially Supported]
Booked [Fully Supported]
BuddyPress [Partially Supported]
TablePress [Fully Supported]
Easy Digital Downloads [Partially Supported]
NOTE: You need to download or purchase separately those 3rd party plugins. 3rd Party plugin NOT included with our package.
3rd Party Themes Compatibility
Our addons supports almost all themes but we tested some of the most popular can confirm that it works properly on the following:
Paid Themes:
Free Themes:

OceanWP
Astra
Hestia
Raven
Generate Press
Stout
Total
Sydney
Kumle
Krystal
Phlox
Store Front

More test results coming soon…
Version Change-log [Full Changelog]

## 5.5.0 [6th October 2020]

### Added

- Custom JS Extended option added
- Button ID option added in advanced button widget
- Image Size option added in Fancy Card Widget
- A few new options added in Lottie Icon Box Widget 
- Custom post type option added in Tags Cloud Widget
- [Element Pack Essential Shortcodes Alert, Author Avatar, Author Name, Badge, Breadcrumbs, Button, Clipboard(copy), Current Date, Current User, Label, Lightbox, Notification, Page Title, Page URL, Post Date, Site Title, Site URL, Tag List, Tooltip](https://elementpack.pro/knowledge-base/how-to-use-element-pack-essential-shortcodes/) Added
- HTML functionality added on Custom content in Modal Widget  (Thanks Hakeem Sisney)
- Invisible option added in marker widget
- Overlay color option added in portfolio carousel and gallery skin abetis, Fedara

### Fixed

- Link target issue fixed in Fancy Icons Widget (Thanks Shray Kumar)
- Checkbox style issue fixed in Formidable Forms Widget
- Loop issue fixed in Lottie Icon Box Widget 
- Categories registered issue fixed (Thanks to Tony Keller)

### Updated

- Template library completely restructured and make it future proof for upcoming huge template addition. now item search and filter will work smoothly

## 5.4.0 [18th September 2020]

### Added

- Tags Cloud Widget Added
- Notification Widget Added
- Formidable Forms Widget Added

### Fixed

- Section delete problem in editor fixed
- Skin Hazel & Vast Text issue fixed in Post Slider Widget
- Honeycombs link disabled for editor (Thanks to Nathan Walker)
- Scrollspy Time problem fixed in Tabs Widget (Thanks to Sage Techteam)

### Updated

- Navigation style controls format updated in every Carousel & Slider Type Widgets

## 5.3.2 [25th August 2020]

### Added

- Thumb Title HTML Tag option added in Post Slider Widget (Thanks to Marco Barbera)
- Icon position option added in Toggle Widget (Thanks to Thomas Breher)
- Link option on Icon added in Circle Info Widget (Thanks to Juanita Samborski)
- Legend, xAxes, yAxes Color Options added in Chart Widget

### Fixed

- Live Paste issue fixed for WP 5.5
- Title style issue fixed in Timeline Widget (Thanks Susi Carreira)
- Conflict with Elementor Pro Lottie Widget (Thanks to Chris Parrish)
- Minor issue solved in Reading Progress Widget (Thanks Mohamed Bakry)
- Border Radius issue Fixed in Image Accordion Widget (Thanks to Jason Lynch)
- Navigation icon issue fixed in Timeline Widget
- Closed label option fixed in Business Hours Widget (Thanks Henley Tan)
- Font size of price issue fixed in WC-Product Widget (Thanks Kornchai)
- Tooltip editor-style issue fixed in Iconnav Widget
- Content Height issue fixed in Fancy Tabs Widget

## 5.3.1 [31st July 2020]

### Fixed

- Element Pack tested for the upcoming Elementor 3.0.0 and fixed all issues. 
- Pause on Hover issue fixed in Advanced Image Gallery Widget (Thanks Radu Irhasiu)
- Layout broken on Firefox Browser fixed in Honeycombs Widget (Thanks Ingo Falk)

## 5.3.0 [26th July 2020]

### Added

- Visibility Control added for all widgets and sections
- Elementor Template Widget added in Appearance > widgets for show any pre-made template in the sidebar
- Skin Tiny Countdown Added in CountDown Widget
- Icon Area Custom Width Option added in Fancy Tabs Widget
- Sub Label show/hide option added in Gravity Forms Widget

### Fixed

- Hover animation issue fixed in Scroll Button Widget
- Play-list padding and Description Typography issue fixed in Video Gallery Widget
- Border issue fixed in Logo Grid Widget
- List left side spacing issue fixed in Price List Widget
- Min Height issue fixed in Scroll Image Widget
- Item spacing issue fixed in Table of content Widget
- Input spacing, width, button width issue fixed in Gravity Forms Widget
- Animation issue fixed in Advanced Progress Bar Widget (Thanks Abdoul Ouedraogo)

## 5.2.0 [17th July 2020]

### Added

- Hover Video Widget Added
- Image Accordion Widget Added
- Image Expand Widget Added
- User Name show/hide option added in User Login Widget
- Fancy Animation added in Scroll Button Widget
- Arrows animation added in Step Flow Widget
- Slide Per column option added in Testimonial Carousel Widget
- Pagination Option Added in Testimonial Grid Widget
- Header Text Color option added in Table Of Content Widget
- Close Button some control option added in Modal Widget
- Currency position & format option added in Price Table Widget

### Fixed

- Avatar showing issue fixed in User Login Widget(Thanks Kornchai Dilokchareamkun)
- Post Grid skin alite & Harold Text limit issue fixed(Thanks Adi Heutschi)
- Title and button icon spacing issue fixed in Post Grid Tab Widget
- Pagination offset issue fixed
- Meta color issue fixed in Post Slider Widget
- Icon position & spacing issue fixed in Modal Widget
- Minor issue solved in Animated Heading Widget
- Label & Placeholder default not showing issue fixed in Simple Contact Form Widget
- Button SVG icon default color issue fixed in Slider, Slideshow Widget
- SVG icon default color issue fixed in Toggle Widget
- Wc Add To Cart Not showing issue fixed in Add to cart Widget(Thanks Gerson Ruano)
- Icon Horizontal/vertical Offset issue fixed in Advanced Counter Widget
- Dropdown background color issue fixed in Table of Content Widgets
- Instagram API issue fixed you need to use a new Access token system for get work it

### Updated

- Description control option updated in Advanced Icon Box Widget

### Removed

- Content Position default option removed in Slider, SlideShow widget

### Noted

- Instagram widget comment and like count feature remove due to new API don't support like and comment count features.

## 5.1.1 [29th June 2020]

### Added

- Hover Box Skin Flexure Added
- Text shadow option added in Interactive Card and Featured box Widget
- Meta Divider Color option added in Carousel Widget
- SVG Icon color change option added in Flip Box Widget
- Hover Image effect added in Hover Box Widget

### Fixed

- link Icon size issue field in Custom Gallery Widget
- Category style issue fixed in Post Gallery Widget
- Coupon & update button style issue fixed in WC Element Cart Page
- Portfolio Janes Skin editor-style fixed
- Thumbnav color issue fixed in Thumb Gallery widget
- Icon position responsive issue fixed in Lottie Icon Box Widget (Thanks Abdoul Ouedraogo)
- Checkout Page Order Table style issue Fixed in WC Element Widget
- Order Tracking Form Button Style issue fixed in WC Element Widget
- Some color style issue fixed in Post Grid Widget
- Title link style issue fixed in Fancy Slider Widget
- Default style issue fixed in Fancy Card Widget
- Skin Olivier issue fixed in Timeline Widget (Thanks artemy leontyev, Jorge Morillas)
- Zoom Control style issue fixed in Open State Map Widget
- Navigation arrows responsive not showing issue fixed in Logo Carousel Widget

Source and Credit Goes to:
Elementor Page Builder
https://getuikit.com/
https://github.com/amazingSurge/jquery-asPieProgress
https://woocommerce.com/
https://wordpress.org/plugins/contact-form-7/
https://wordpress.org/plugins/mailchimp-for-wp/
https://revolution.themepunch.com/
https://wordpress.org/plugins/instagram-feed/
https://vincentgarreau.com/particles.js/
https://github.com/koddr/goodshare.js
https://github.com/zurb/twentytwenty
https://github.com/MrSaints/Morphext
https://github.com/lrsjng/jquery-qrcode
https://github.com/hpneo/gmaps
https://wordpress.org/plugins/bbpress/
https://codecanyon.net/item/booked-appointments-appointment-booking-for-wordpress/9466968
https://codecanyon.net/item/layerslider-responsive-wordpress-slider-plugin/1362246
https://www.download-monitor.com/
https://codecanyon.net/item/quform-wordpress-form-builder/706149
https://wordpress.org/plugins/ninja-forms/
https://www.gravityforms.com/
https://wordpress.org/plugins/caldera-forms/
https://github.com/wagerfield/parallax
https://jplayer.org/
https://github.com/zikes/circle-menu
https://codecanyon.net/item/imagezoom-responsive-jquery-image-zoom-plugin/
https://codecanyon.net/item/flat-weather-jquery-plugin/
https://www.chartjs.org/
https://github.com/giniedp/spritespin
https://github.com/fooplugins/rvslider
Source