Say goodbye to the hassle of switching between your preview and the backend Visual Composer editor just to check the changes you've made. Backend Live Preview gives you the actual preview of your website right beside the Visual Composer backend editor. The preview updates on your every change and also lets you toggle between desktop, tablet and mobile phone responsive views.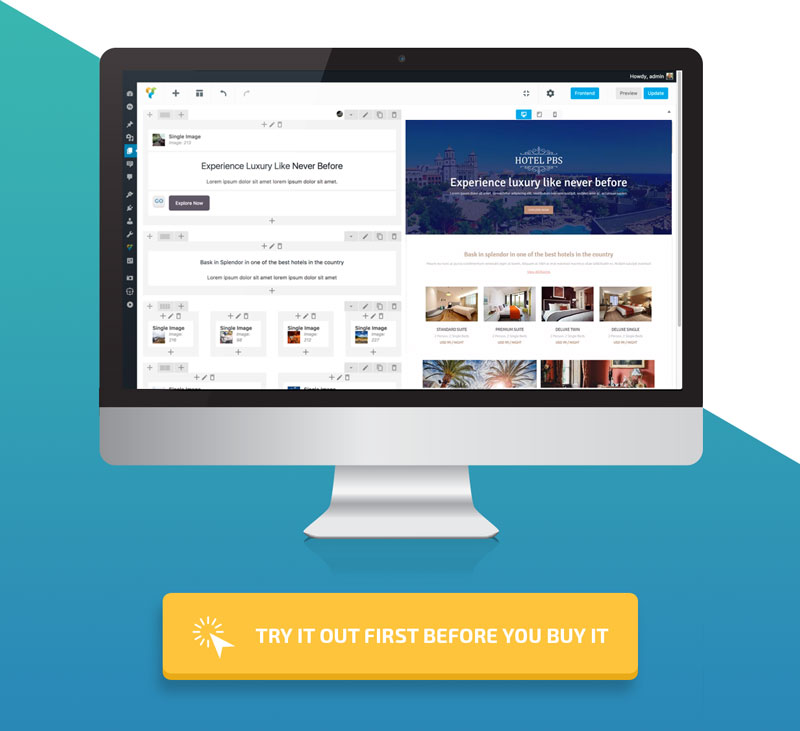 Backend Live Preview for Visual Composer was created because we always used VC's backend editor instead of the frontend one. The backend was faster, more robust, and from experience, some shortcodes didn't render properly in the frontend. However, the problem was that we had to constantly click on the preview button just to see whether our resulting design looked great. The few seconds that it takes to load up the preview and switching from tab to tab eats a lot of your time.
Now with Backend Live Preview, there's no more need to switch between tabs to view your layout. Switch to VC's full screen mode and you'll be presented with a live preview of your page/post, that updates with every change you perform. You'll also be able to preview your page in desktop, tablet and mobile phone screen sizes. Backend Live Preview will change how you use Visual Composer, and will bring your efficiency through the roof.
Awesome Features
Live preview of your page in VC's backend editor
The preview updates with every change you perform
Renders shortcodes even from third-party VC addons without any problems
Interact with your preview, it's a live page after all
Integrates directly with VC's full screen backend mode
No additional configuration, it just works out of the box
Toggle between desktop, tablet, and phone screen resolutions
Compatible with our Undo and Redo VC addon
Compatible with our Google Fonts VC addon
WordPress coding standards
Visual Composer Addon
Enjoying the Plugin?
Be sure to leave a rating and review and show us some love.

Updates
Version 1.2 – March 3, 2017
* New: Inputted custom CSS are now being applied in the preview.
* Fixed: Custom CSS being generated by VC shortcodes are now being properly applied.
* Fixed: Shortcodes that trigger the_content now do not cause an infinite loop
Version 1.1 – February 27, 2017
* New: Refresh button
* Fixed: Sometimes the preview page loaded blank contents
Version 1.0
* Initial release